Picking favourites from Caine's extensive film catalogue is a challenging proposition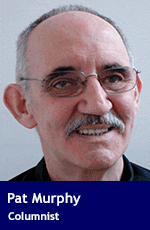 The English actor Michael Caine turned 90 on March 14. And he's still working!
He plays the lead role in The Great Escaper, a story about a Second World War veteran who escapes from a care home to participate in the 70th-anniversary commemoration of D-Day. And he spent lockdown writing his first novel, a thriller called If You Don't Want to Die. Both the movie and the book should appear later this year.
Caine's professional star ascended in the 1960s, during which he exemplified a new type of English working-class leading man. While financial success was certainly to be embraced and enjoyed, he had no interest in shedding characteristics like his Cockney accent. In a society where social class still mattered, he wasn't into personal reinvention.
Caine wasn't classically handsome. But his horn-rimmed glasses, laconic manner and distinctive voice rendered him instantly recognizable. And there was an edge to his onscreen presence.
There have been countless Caine movies over the decades, ranging from the terrific to the dreadful. He doesn't regret any. As he succinctly puts it, "I got paid for all of them." So speaks the voice of a working actor whose impoverished background taught him the value of money.
Still, there have been lots of critical plaudits. Between 1966 and 2002, he collected six Academy Award nominations, winning Best Supporting Actor twice and being nominated for Best Actor four times.
On a personal level, Caine has always been very much his own man, someone who takes the world as he finds it and makes his own calls. The first film in which he had a substantial role was 1964's Zulu; and asked recently about the allegation that it "incites the far-right," he's unapologetically dismissive: "That is the biggest load of bullshit I have ever heard." The politically correct may cavil, but there'll be no grovelling for approval or absolution.
Picking favourites from Caine's extensive repertoire is a challenging proposition. But here are four I heartily recommend.
The Ipcress File (1965)
This was the first time I saw Caine on screen. Based on Len Deighton's 1962 spy novel, the movie was a deliberate contrast to the James Bond model. Unlike Sean Connery's glamorous casino-frequenting Bond, Caine's Harry Palmer lived in a Notting Hill bedsit, did his own grocery shopping and collected recipes.
Time magazine's favourable review characterized him as looking "a bit like Peter O'Toole with most of the psychological kinks ironed out." It also described his Palmer depiction as "Insubordinate and often insufferable," which corresponds nicely with Caine's own later reminiscence on his approach to the role – "screw it, I'll do it my way and get it right … That was me at that time."
The British Film Institute (BFI) has ranked The Ipcress File as No. 59 on its list of the 100 best British films of the 20th century.
Alfie (1966)
Pressed about his favourite role, Caine has sometimes chosen this one, in which he portrays Alfie Elkins, a Cockney chauffeur who is catnip to women. Selfish, narcissistic and amoral, he's a serial seducer and indifferent to the trail of hurt left in his wake. Ultimately, though, he gets something of a comeuppance, particularly when he sees the fetus from an abortion he'd procured for a married woman he'd seduced.
Although Alfie was very popular in 1966, I found it a tad sordid back then. But having rewatched it years later, the merits are obvious.
Alfie gave Caine his first Best Actor nomination, and it appears at No. 33 on BFI's list.
Get Carter (1971)
If you like gritty crime movies, this one will check all your boxes. However, be warned – it's violent.
Caine plays a London-based gangster who returns to his Newcastle hometown on a revenge mission. His brother has died in suspicious circumstances, and he's determined to get to the bottom of it. He succeeds – and ends up dead.
Get Carter's critical reputation has grown over the years. The BFI put it at No. 16 on its list.
Last Orders (2001)
This small movie is perhaps my favourite.
Caine's character is a London butcher who has left detailed instructions for the disposition of his ashes. His best friends are to transport the urn from a London pub to a seaside pier for scattering, making specific designated stops along the way. Through frequent flashbacks, we learn the history of their relationships. It's a wonderful piece of ensemble acting.
Roll on the release of The Great Escaper!
Troy Media columnist Pat Murphy casts a history buff's eye at the goings-on in our world. Never cynical – well, perhaps a little bit.
For interview requests, click here.
---
The opinions expressed by our columnists and contributors are theirs alone and do not inherently or expressly reflect the views of our publication.
© Troy Media
Troy Media is an editorial content provider to media outlets and its own hosted community news outlets across Canada.